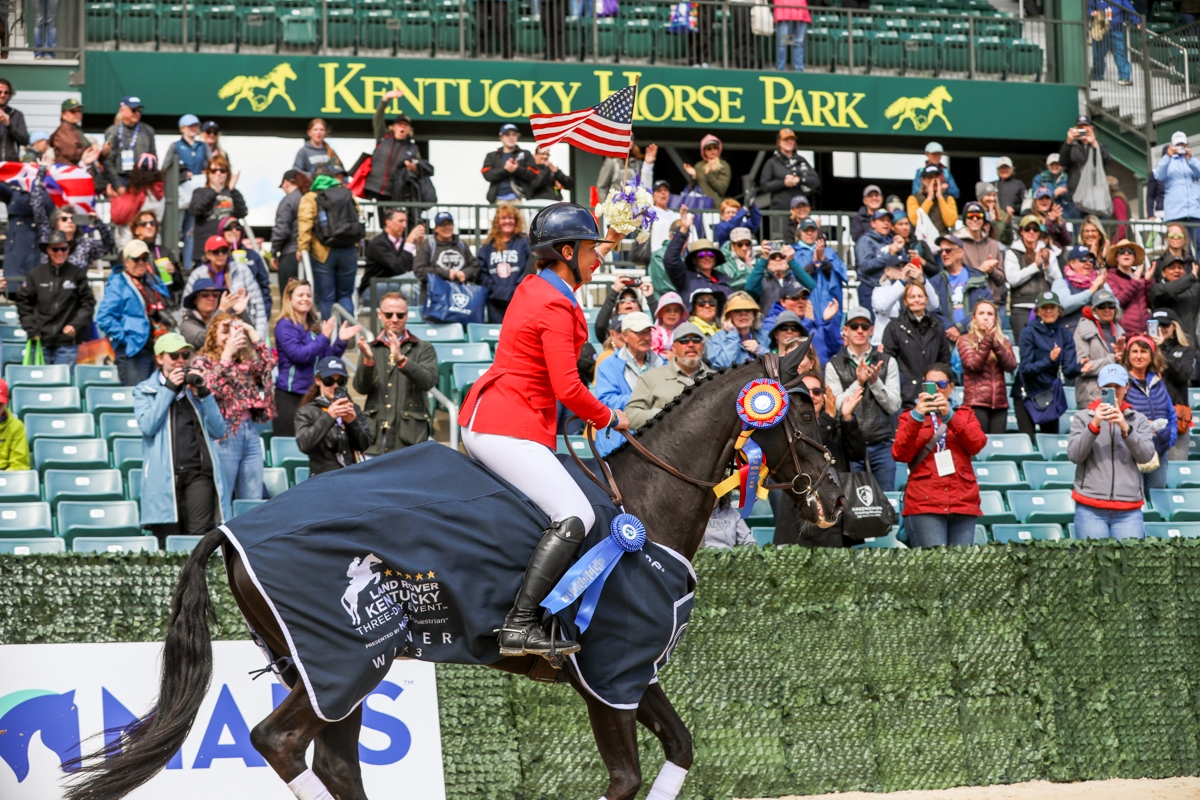 Under threatening skies, 23,576 fans flocked to the Kentucky Horse Park in Lexington, Ky., as the worst of the winds and rains held off to witness the grand finale of the 2023 Land Rover Kentucky Three-Day Event.
Land Rover Kentucky Three-Day CCI5*-L Divison
It was a nail-biter to the very end after overnight 2
nd
place Tom McEwen of Great Britain jumped double clear in the show jumping phase on JL Dublin. Overnight 1
st
place Tamra Smith of California and longtime partner Mai Baum cantered into the stadium with not a rail to spare. 
Since international competitors have won Kentucky Three-Day every year since Phillip Dutton's victory in 2008, local fans have eagerly cheered for an American to win the event for 15 years now. Some very close calls and last-second rails down have dashed hopes time after time.
The crowd held its collective breath during Smith's round. Despite a couple of light taps, all the rails stayed in their cups, and the pair came in under the time for a beautiful double-clear round. As soon as the last jump was cleared, the crowd burst into a deafening roar—Smith had finally gotten one for America. (She was also the first woman to win in 12 years, the last being Mary King of Great Britain.)
"It's like an out of body experience," Smith said after her Land Rover Kentucky Three-Day win. "In this sport you take a beating, and you hope that one day it pays off. Today it did. I'm honored, elated, and I'm a bit speechless."
This pair earned a team silver medal at the Eventing World Championships in Pratoni, Italy, last year after an uncharacteristic two rails bumped them out of an individual bronze medal finish down to 9th. 
"[Prior to that] he hadn't had a rail in a few years," says Smith. "I was quite nervous going into the show jumping [today]. It was my job to ride him the right way and it was his job to jump the jumps. He felt healthy and full of himself, and everybody carried me around."
The 17-year-old German Sport Horse gelding, whose barn name is "Lexus" but also goes affectionately by "The Black Stallion," is just 33% Thoroughbred, so getting the stamina for the longest cross-country courses was their biggest challenge, even though his dressage scores are notoriously good. 
"I wasn't always sure he was a 5* horse," said Smith. "It took us quite a while to get his confidence." 
She got the ride on Mai Baum from her working student, Alexandra Ahern, although Smith was reluctant at first.
"I remember seeing Alex ride him for the first time to do a jump school at our place, then she came to be a working student for me. I usually don't ride my working students' horses because I don't want them to feel like I'm pressuring them to ride their horse. When she went to college and said, 'You need this horse—America needs a great horse,' I tried to talk her out of it for a few months." Thankfully Smith eventually said yes, because their partnership has been second to none in the years since then.
She also gave a shoutout to the West Coast, where she's based.
"We have such an amazing camaraderie. The West Coast is kind of foreign looking if you're not used to it; there's lots of dirt unlike here in Kentucky. I've chosen to stay west to show people you can do it. I'm glad I stayed true to my roots."
Smith is planning to give Mai Baum a break after their Land Rover Kentucky Three-Day win and then do some show jumping with him in the fall before hopefully targeting the Paris Olympics next year.
"He's healthy and strong, and he'll tell me what he wants to do next. He doesn't owe me anything after something like this. He doesn't show any signs of throwing in the towel, and today he jumped out of his skin. We'll give him a well-deserved rest and see what happens from there."
Land Rover Kentucky Three-Day
CCI4*-S Division
In the 4* division, Karl Slezak of Canada held his 1st place overnight position as well, jumping a double-clear round on Hot Bobo to claim a Land Rover Kentucky Three-Day win.
"I was definitely nervous but tried to put as little pressure on myself as possible, and it usually works out that way," he said after his ride. "I celebrated a little too much last night, so I slept really well!"
His mare exceeded all his expectations and handled the big crowd at Kentucky Three-Day better than he expected. 
"She just wants to work all the time—she wants to please. When mares work for you, they're amazing, and she works for me real well."
Smith also held overnight 2nd place in the 4* division and maintained her placing after a double-clear round aboard Solaguayre California. Sydney Elliott moved up from 5th to 3rd with QC Diamantaire after some rails bumped other competitors down. 
Another Land Rover Kentucky Three-Day Event is in the books — "the best weekend all year." Now we only have to wait 358 days until the next one!
Follow all our coverage of the 2023 Land Rover Kentucky Three-Day Event here.
CCI5*-L Top 10 Final Results
1. Tamra Smith and Mai Baum (24.2)
2. Tom McEwen (GBR) and JL Dublin (27.8)
3. Elisabeth Halliday-Sharp and Miks Master C (28.5)
4. Sandra Auffarth (GER) and Viamant Du Matz (30.4)
5. Phillip Dutton and Z (32.3)
6. Maxime Livio (FRA) and Carouzo Bois Barotin (35.5)
7. William Coleman and Off the Record (35.6)
8. David Doel (GBR) and Galileo Nieuwmoed (35.6)
9. Doug Payne and Quantam Leap (37.3)
10. Emily Hamel and Corvett (39.5)
CCI4*-S Top 10 Final Results
1. Karl Slezak (CAN) and Hot Bobo (29.3)
2. Tamra Smith and Solaguayre California (30.0)
3. Sydney Elliott and QC Diamantaire (34.9)
4. Elisabeth Halliday-Sharp and Cooley Be Cool (36.3)
5. Dan Kreitl and Carmango (37.4)
6. Jacob Fletcher and Fabian (38.1)
7. Phillip Dutton and Azure (39.8)
8. James Alliston and Karma (40.0)
9. Elisabeth Halliday-Sharp and Cooley Nutcracker (40.3)
10. Tamra Smith and Elliot V (40.4)
This article about the 2023 Land Rover Kentucky Three-Day Event is a web exclusive for Horse Illustrated magazine. Click here to subscribe!