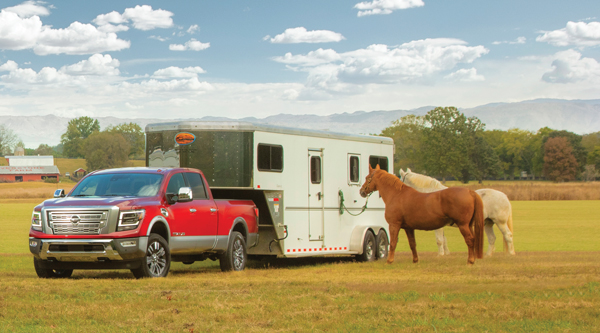 For many of us, enjoying our horses involves transportation with a truck that can tow a horse trailer. Whether it's hauling to a show or event, meeting friends at the trail head for a long ride or heading out for a weekend of camping and riding, you want to get there—and home again—safely. In a perfect world, you'd know exactly what your hauling needs are going to be so you could buy a truck and trailer at the same time. In reality, it rarely works out this way.
NRS Trailers
is one of the country's largest premier trailer dealerships, with locations in five states. Rusty Willis, general manager and service manager at the Ocala, Fla., location has worked in the trailer industry for 30 years. In his experience, many horse owners who are buying their first trailer or upgrading to a better trailer are hoping to get by with using their current vehicle to tow it.
Willis says the most common towing mistake is trying to pull too much trailer with a less-than-sufficient tow vehicle. The danger here is that the loaded trailer can end up controlling the situation, which can lead to disaster.
"People ask me all the time, 'Can my truck pull this trailer?'" says Willis. "Their truck might be able to pull it, but being able to stop safely is the most important part of hauling anything. This is the biggest liability. The biggest folklore around is just considering how much you can pull. It's really about how much you can stop safely."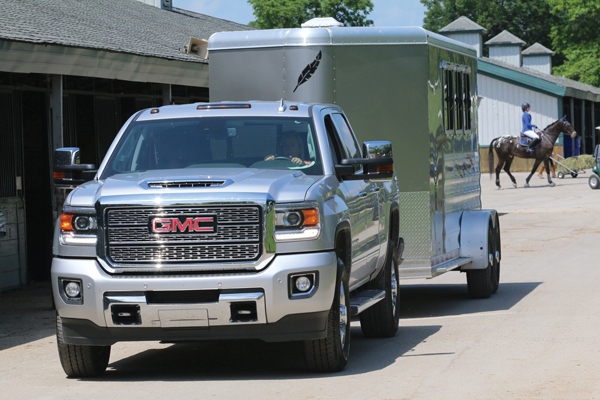 Truck Specs for Pulling a Horse Trailer
Whether you already have a trailer or are shopping for one, knowing how much weight you'll tow on a regular basis tells you if you have enough vehicle to safely do the job—or if you'll need something different.
Add together:
◆ The weight of trailer
◆ The weight of horses
◆ The weight of all tack and gear
This gives you a starting point of what your vehicle must have in towing capacity, which is listed in the owner's manual.
It's over-simplifying to say a half-ton truck (like the Ford F-150, Ram/Chevrolet/GMC 1500, and others) is always fine for a two-horse trailer. That's because the same model and year truck can have a different engine size, transmission, rear axle ratio and wheelbase.
For example, the range of towing capacity of the 2020 Ford F-150 differs by several thousand pounds (7,700 to 13,200 pounds), depending on the engine, even though they are all rated as half-ton trucks (half-ton refers to the carrying capacity in the cab and bed of the truck).
Engines also vary in horsepower and torque. Torque, which is the power that gets the wheels moving from a stop, is considered more important than horsepower when towing. The more weight you're hauling, the more torque you need.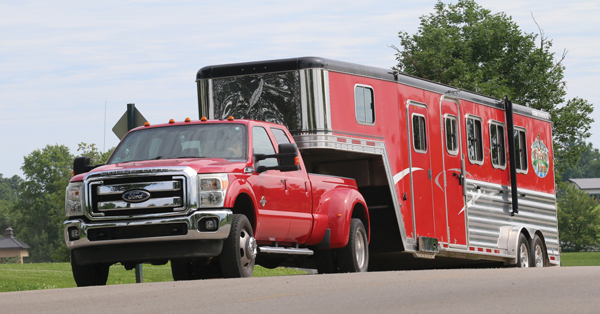 The increased torque in some newer models enables a half-ton truck with a six-cylinder engine (V6) to pull more weight than the same model truck with an eight-cylinder engine (V8).
A truck manufacturer's website can tell you what a truck is rated to pull, but you should know that these figures are not designed with live cargo in mind. A boat or camper isn't going to shift and move around like live animals can. Towing experts advise that any time you're hauling live cargo, you should stay below 70 to 75 percent of the vehicle's max tow rating.
Tow ratings also don't take into account terrain, which is important to consider if you're regularly hauling in areas with significant uphill and downhill driving.
Fuel efficiency should never be your first priority when selecting a tow vehicle. Yes, we all want to save money, but a tow vehicle that is safe and powerful enough to pull and stop your precious cargo is more important than saving a few bucks at the pump.
To safely pull a horse trailer, your truck will need a tow package, which typically includes a heavy-duty class V hitch, wiring harness, and brake control. Depending on the vehicle model, it may also include a heavy-duty battery, transmission cooler, and other features.
Most full-size trucks have an anti-lock brake system (ABS), but you'll still want separate electric brakes on your trailer.
A frame-mounted hitch, welded directly to the vehicle's frame, is necessary for towing a horse trailer. The fifth wheel (also called a gooseneck) hitch is mounted to the frame in the middle of the truck bed and centered over the rear axles.
The wide variety of trucks and trailers on the road today testifies to the fact that horse owners have very different wants, needs and budgets. Below is a look at three broad categories, one of which you are likely to fall into.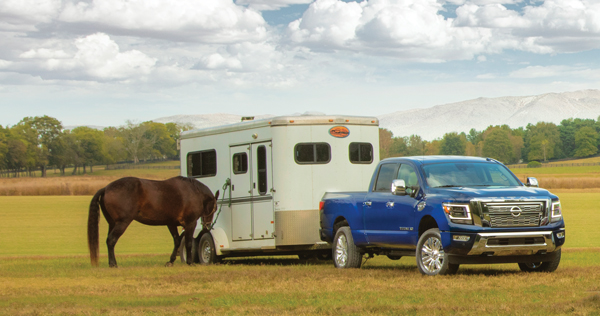 Weekend Warrior
Typically, this is the single-horse owner who hauls regularly to events and/or trail rides. Their trailer might have a tack compartment, but not living quarters.
Paige Macfarland (no relation to writer) of Green Valley, Ariz., tows a straight-load two-horse, bumper pull CM trailer to take her Quarter Horse gelding to trail rides, and often hauls a friend's horse as well. Her trailer weighs 2,500 pounds empty, and when loaded with two horses and tack, comes in just under 5,000 pounds.
Macfarland bought the trailer new nine years ago when she was towing with a 2008 Ford F-150.
"A couple years ago, I upgraded to a 2016 F-150 with 3.5L EcoBoost Twin-Turbocharged V6," says Macfarland. Her new truck has a max towing capability of 12,200 lbs.
"This engine is a step up, and my other truck was getting up there in mileage," she says. "I had the tow package added, so I got exactly what I wanted, although now I wish I'd gotten the back-up camera."
Make Sure Your Truck is Up to Hauling Horses
An owner of two to three horses who hits the road regularly, driving varying distances, usually has a three-horse slant-load trailer with a tack room and perhaps living quarters.
When Jill Brown of Williston, Fla., bought her three-horse slant-load, all-aluminum Shadow trailer, the dealer assured her their 2017 Ford F-150 with 2.7L EcoBoost V6 engine could handle it.
The 18-foot-long bumper pull trailer with front tack room is 7'6″ tall, which adds some wind resistance, and weighs 2,400 pounds. Loaded with three horses plus equipment, the total weight is about 6,000 pounds, which was well below the truck's towing capacity.
"I was able to pull it, but the truck frame just wasn't stout enough, and the mileage dropped to 10 mpg when towing," says Brown, who upgraded to a 2012 Ford F-350 dually with 6.7L Power Stroke diesel engine.
"This truck is more than sufficient for towing, and with the diesel engine, I still get 15 mpg even when towing a full load," says Brown, who regularly hauls the family's three horses to area trail rides and team sorting events. "It's always better to have more power than you need. Plus, with it being a dually, it's very stable when towing; you can't even tell if the horses are moving around."
Willis explains that a one-ton dually can tow more weight than the same size truck with single rear tires behind because dual wheels offer more stability and less drift.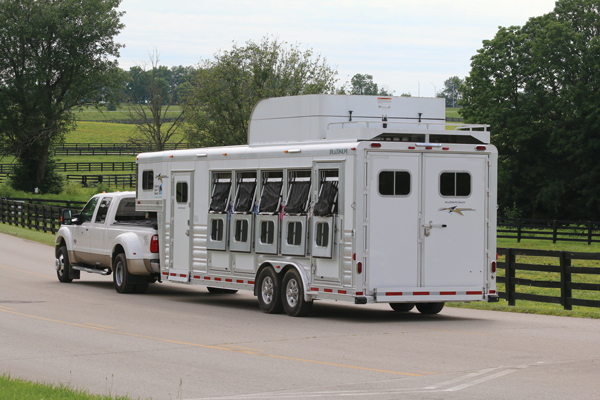 Equine Professional
Making a living with horses means routinely hauling multiple horses. Professional horsemen often have a gooseneck trailer with living quarters and tack room, as well as space to haul up to six horses.
Willis explains that some larger, high-end trailers have conversion package living quarters that use heavier wood than standard models, adding to the overall weight. Increased weight and horse trailer length can push the towing limits of even a one-ton dual-wheeled truck.
"You can have a 30-foot trailer that weighs 15,000 pounds when loaded," says Willis. "You might get by with a one-ton truck, but you're borderline needing more."
Manufacturers such as Freightliner, Kenworth, International and Peterbilt all offer sport chassis hauler models ("small semis") designed specifically for towing large gooseneck horse trailers. Domestic truck manufacturers like Ford, Chevy, and GMC also build trucks with engines beyond the classic one-ton size. Expect all of these engines to be diesel.
A standard driver's license may not be adequate if you need to step up to a truck and trailer with a gross combined weight rating (GCWR) of 26,001 pounds or more. Check with your state for specific license requirements.
Annual Service
You know your truck needs regular servicing in order to operate safely and efficiently, but don't forget the trailer. Routine trailer maintenance plays a part in the safety of your overall rig. The details of service will depend on how heavily your trailer is used, but at the very least, the following maintenance should be done annually:
◆ Brake inspection
◆ Re-pack wheel bearings
◆ Tires and spare tire inspection
◆ Floor inspection for rot or corrosion
◆ Check hitch/ball
◆ Lights and turn signal inspection
◆ Check all latches, bolts, and windows for normal function
Towing Terminology
If you're shopping for a tow vehicle—or trying to determine if your current truck is sufficient for towing duty—these are must-know terms.
Payload: the combined maximum allowable weight of cargo and occupants that the vehicle is designed to carry (including trailer tongue load)
Trailer tongue load: the amount of trailer weight that rests on the trailer hitch
Gross Vehicle Weight Rating (GVWR): the weight of the vehicle plus the maximum allowable weight for occupants and cargo that the vehicle can safely handle. Vehicles and trailers both have a gross vehicle weight rating (GVWR). On a trailer, look for this number on the plate, typically located on the neck or tongue. On the vehicle, you'll find this number on the label inside the driver's doorjamb.
Gross Combination Weight Rating (GCWR): the maximum weight of both the loaded tow vehicle and the loaded trailer that the vehicle can safely handle without risking damage (find this number at the manufacturer's website in the towing section)
Towing capacity: the amount of weight the vehicle can safely pull behind it

This article about choosing the right truck to tow a horse trailer appeared in the June 2020 issue of Horse Illustrated magazine. Click here to subscribe!